For a good part of the 20th Century, it was not at all unusual to find one particular person front and center at important moments in the life of Chicago, in the business of media, and in American sports.
That person was not an athlete or a mogul, as such a person almost certainly would have to be today. He was the sports editor of the Chicago Tribune.
"He was so influential," said one of my former colleagues at a gathering I attended on Saturday night; "it was the biggest job in the country." "I couldn't believe the famous people who came in," said another. "He was a celebrity," nodded a third.
We were sitting on a Lake Forest patio, about 5 miles from Halas Hall, and we were deep into the first of two days of talking mostly about Cooper Rollow, who died March 29. He was sports editor of the Tribune from 1969 to 1977, which means he was the boss when I began my 11 years in that department in September 1974. But the celebrity part goes back a good ways before that.
Take Don Maxwell, sports editor from 1925 to 1930 and later editor of the paper. He has been credited with being the first sports editor in a major city to pay attention to pro football (one result of his decision to actually lead the sports section with Bears games, his Tribune obituary said, was that "the Associated Press for the first time began to carry the results of other pro games"). "The Tribune saved the National Football League, and maybe even made it," said Don Pierson, at whose home about 20 Tribune types were gathered a day before a memorial service for Rollow at the Morton Arboretum.
Perhaps most famously, take Arch Ward, who took over for Maxwell in 1930. All he did was invent baseball's All-Star Game in 1933; start the long-running College Football All-Star Game in 1934; and turn down a 10-year contract to run the NFL in 1941. Then, while finding time to conduct "In the Wake of the News," one of the nation's longest-running sports columns Ward actually founded a competing pro football league — the All-America Football Conference — which wound up forcing a merger with the NFL in 1949 after four seasons of play and four championships for the real Cleveland Browns.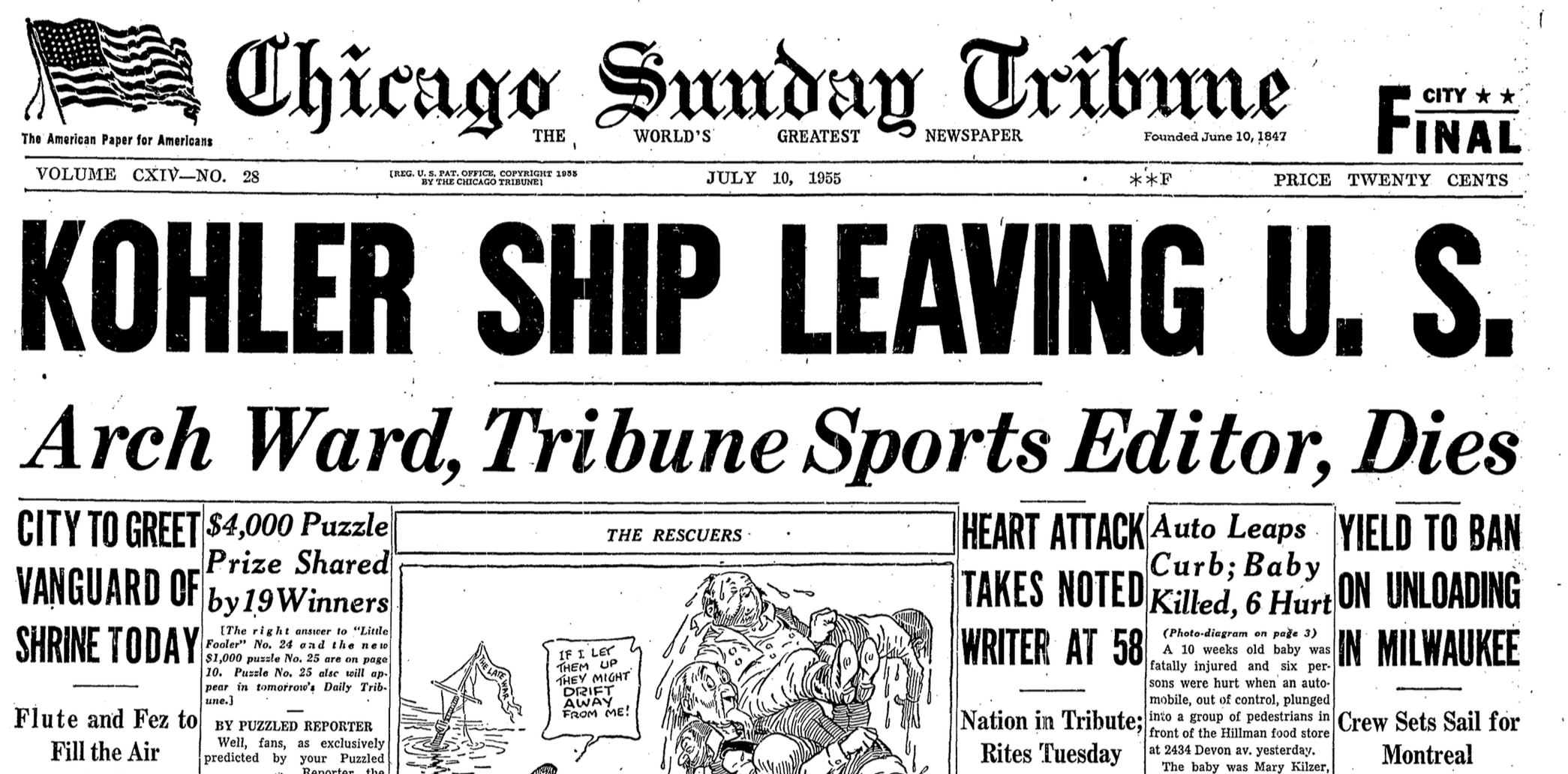 He had a national radio show and his own local TV show, and his sudden death in 1955 at the age of 58 was worth an eight-column headline on Page One of the Sunday Tribune.
You might be getting the idea that, half a century ago, the job of Tribune sports editor used to be somewhat broader than editing. (When Ward's successor Wilfrid Smith passed the mantle to George Strickler in 1966, the Tribune story included among his accomplishments that "he expanded the list of Tribune sports department promotions" to include skiing, boating, fishing, and the state curling tournament.) Oh, so it's promotion you want from your guy? Strickler was already famous for it: in 1924, as Knute Rockne's student publicity man, he had come up with the phrase "the Four Horsemen of Notre Dame" that Grantland Rice immortalized in the New York Herald Tribune.
I mentioned this observation about Rollow's predecessors to George Langford, Coop's successor and a weekend visitor from Florida. "Yes, they wanted to be the next Arch Ward. And why not?"
Those gathered for the tale-swapping on Saturday, and then again Sunday at a memorial service for Coop at the Morton Arboretum, were equipped with about six decades' worth of anecdotes, given that Rollow joined the Tribune on Sept. 28, 1953. Indeed, a quick archive search shows that the bylines of the attendees stretch from 1956 (Roy Damer) to the present day (Fred Mitchell).
(Update: Ed Sherman, whose byline began appearing in the Tribune again a few days later when he resumed writing a sports media column on an every-other-Wednesday basis, has also written about the weekend on his blog, shermanreport.com. )
Also on hand and also up from Florida were Bob Markus and his wife Leslie, herself a prominent journalist with years as the food editor of Pioneer Press. Bob's book of Tribune columns, stories, and reflections, "I'll Play These," was a topic of conversation; so was Damer's recollection of sitting on the copy desk one January 1st when the Tribune author at the Rose Bowl filed a brilliant first paragraph and a somewhat shorter second one: "Pick up available." Those were shorthand instructions to the desk to fill the hole with the wire services because the scribe was done for the day, or too far gone, or both.
But the point of the weekend was Cooper Rollow stories. Neil Milbert talked about the Saturday night in football season when, with the desk on deadline to close the Sunday paper, Rollow noticed from his office that a tour group was being led through the building. He burst from his office waving a fistful of paper and shouting, "Stop the presses! I've got a story that will turn this town upside down!" The dumbfounded civilians stopped in their tracks, unaware they were the target audience for a very particular sort of street theater.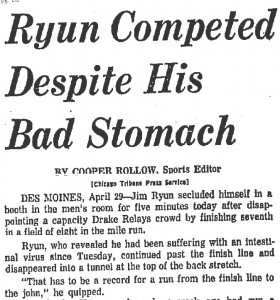 Pierson retold an anecdote that he shared with Mitchell the day Coop died, about Rollow pursuing an ill Jim Ryun into the locker room . . . deep into the locker room . . . at the 1972 relays. You could look it up, as they say — and so I did (image at left). Practical joker, yes, but instinctually first and foremost he was a reporter and storyteller.
Markus's book begins with the biggest event that he and Rollow jointly covered, the tragic 1972 Munich Olympics, and he and Coop became close friends as they "double-covered" untold big events while Rollow was sports editor and Markus a columnist. At Sunday's memorial, Markus preferred a different anecdote. He said that in one of their last conversations, Coop asked him, "Bob, who was your favorite sports columnist?" "I was," said Bob, in character to the end.
"I always kind of liked Dave Nightingale," Cooper Rollow replied.