For the second time since 2013, I'm having the opportunity for a series of conversations with random strangers around a piece of consumer technology.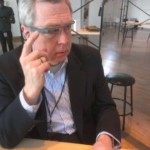 Back then, it was Google Glass, and the conversations usually went like this:
"Are those the Google glasses? . . . No way. Are you recording me? . . . Oh, okay. How do you like them?"
These days, it's the Apple Watch, and the conversations are going like this: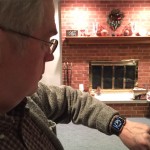 "Is that the iWatch? . . . No way. It's not that big! How do you like it?"
Regardless of the year and the device, the conversations with people I actually know generally are a little different, because they center on a declarative statement and not a question:
"Of course you have that. I'll look for your review."
In that spirit, takeaway number 1 about "wearable computing" from the above anecdotes:
No one feels threatened by a watch.
And takeaway 1A:
I don't feel conspicuous wearing a watch.
But what else might I have to bring to the table among the welter of recent watch reviews?
Hmmm. How about an idiosyncratic feature comparison of both the above mentioned  devices?
You'll find some summary thoughts after the table below, which admittedly omits a few features where comparison is less possible, like mobile commerce. Here goes.
---
| Feature/ attribute/ functionality | Google Glass | Apple Watch | Advantage; if none, comment |
| --- | --- | --- | --- |
| Qualifying action | Contest entry on Google+, 2/21/2013 | Staying up till 2 a.m. , 4/10/2015 | |
| Acquisition | Mandatory trip to New York, 6/19/2013 | Mandatory signature at my front door, 4/24/2015 | |
| My purchase price | $1,500 | $699 | Is less more, or vice versa? |
| Value proposition | "Getting technology out of the way" | "Our most personal device yet" | Hey, the marketers need a tagline |
| Setup / troubleshooting | Individual session with a "Glass Guide" while in New York | Individual session with an "Apple specialist" in Texas via the Web | |
| Waking the device | Tilt head back or tap temple | Lift wrist or tap watch face | |
| Initiating action | "OK Glass ..." | "Hey Siri ..." | Customization needed to stave off hijacking by passers-by |
| Searching / getting answers to questions | Ask Google anything; scroll through 10 results for the unusual | Ask Siri many things; "handoff" to iPhone for the unusual | |
| Appointments and calendar | 2 days available within 1 swipe. Google Now integration for traffic, flights, and more | Next event front and center, a week available by swiping. Reminders also pop up | A close call, but |
| Notifications | Audible chime; 5 seconds to view with one touch. | "Haptic" tap on the wrist; red dot on watch face until dismissed | |
| Reading email | Several options, including good audio readback | Short ones fine, long ones on the iPhone. Inline photos look good. | |
| Sending email | Good voice-to-text for preselected favorites | "Handoff" to iPhone required | |
| Deleting email | Easy enough, but only within overall stream | Easily done and giddily addictive | |
| Texting | Not with an iPhone | Siri seems to work better through the Watch | |
| Twitter | Can overwhelm the device's stream; audio tweeting is OK | Lovely interface if you've time to scroll. "Handoff" to iPhone for tweeting | No winner here either |
| Facebook | Status updates possible | Updates arrive, but can't be acted upon | Oh, just use your phone. |
| Sample news app: NY Times | Typically, the first published sentence and an image. Not great for anecdotal leads. | "One-sentence stories" (and sometimes 2). Little confusion possible. | |
| In-app advertising | Not permitted | I've seen some, fleetingly | No loser at this point |
| Taking photos | Fabulous | Impossible | |
| Viewing photos | OK for user, no one else | They look really good to anyone | |
| Battery life | Can't make it through a 3-hour class | Easily makes it through a 16-hour day | |
| Privacy, anyone? | "Google will determine and use your location..." | "Apple Watch uses the Siri identifier from your iPhone. You can reset that identifier at any time..." | Alternatives: bifocals and a Timex. Oh, and a thermostat that's connected only to your furnace. |
| User's self-image | Fearless early adopter | Fortunate early adopter | Your mileage may vary. |
| User's actual image | Hopeless geek | Hopeless Apple fanboi | Your mileage will certainly vary. |
| Preliminary score | 6 wins for Google | 9 wins for Apple | 9 "no-decisions" |
---
So, fine, Owen, what's the bottom line? I can't buy Google Glass right now, even if I wanted to. Should I order a watch for, oh, June delivery? 
Candidly? Well, it's much the same answer as for Google Glass in 2013. I'd say sure . . . if:
You want to imagine where technology might go next, or
You want to understand where technology hasn't gone yet, or
You're a professor of digital media strategy.
Persuaded? Send me a "digital touch" when your watch arrives.