The 20th anniversary issue of Wired magazine hit my mailbox recently (and props to them for waiting until volume 21 to publish it, rather than announcing a completed milestone upon reaching the 20th year of publication). Sure enough, plenty of good reading, organized around the people and ideas that have mattered during those decades.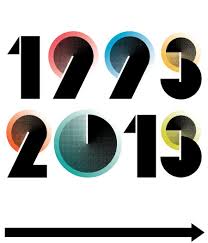 "There are a lot of magazines about technology,"  Louis Rossetto is quoted as having written in the first issue in his first editor's letter, entitled "Why Wired?" – a title I can tell you because the magazine is sitting on my shelf. More on that shortly. "Wired is not one of them. Wired is about . . . the Digital Generation." So it can be argued that this 20th anniversary issue is not about technology, either, although it includes articles about Angry Birds and Bill Gates, Silicon Valley and Alan Turing, HTTP and IPOs.
And in this particular issue that is not about technology, there are more than a fair number of brilliant, memorable stories presented in memorable, idiosyncratic fashion upon the printed page. And oh, the color palette. In the anniversary issue's recounting of the launch of issue 01.01, the following little drama plays out in the pressroom:
"The first sheet comes out. The guy rips it off the caddy, puts it on this big table at the press control panel with the lights that are tuned to get true color. John [Plunkett, the creative director] looks at the sheet and says, 'I want more ink.' The guy says, 'It's perfect.' John says, 'I want more ink.' The guy looks at him like he's got two heads. He does the same thing all over again. John says, 'More ink.' They do this two or three more times. John says, 'Turn the ink up until it smears. Then dial it back until it doesn't. That's what I want.' The guy is disgusted. Out comes a sheet and it looks like Wired."
At any rate, the arrival of this issue gave me renewed inspiration to finish one of my occasional projects: filling in the holes in my almost-complete collection of the U.S. edition of these iconic magazines. Further empowered by the unexpected arrival of a check for my remaining 2008 vacation pay from the no-longer-bankrupt Tribune Company, that I set off on a quest through the nooks and crannies, digital dells and virtual valleys of eBay, Amazon, Alibris, and, yes, backissues.com.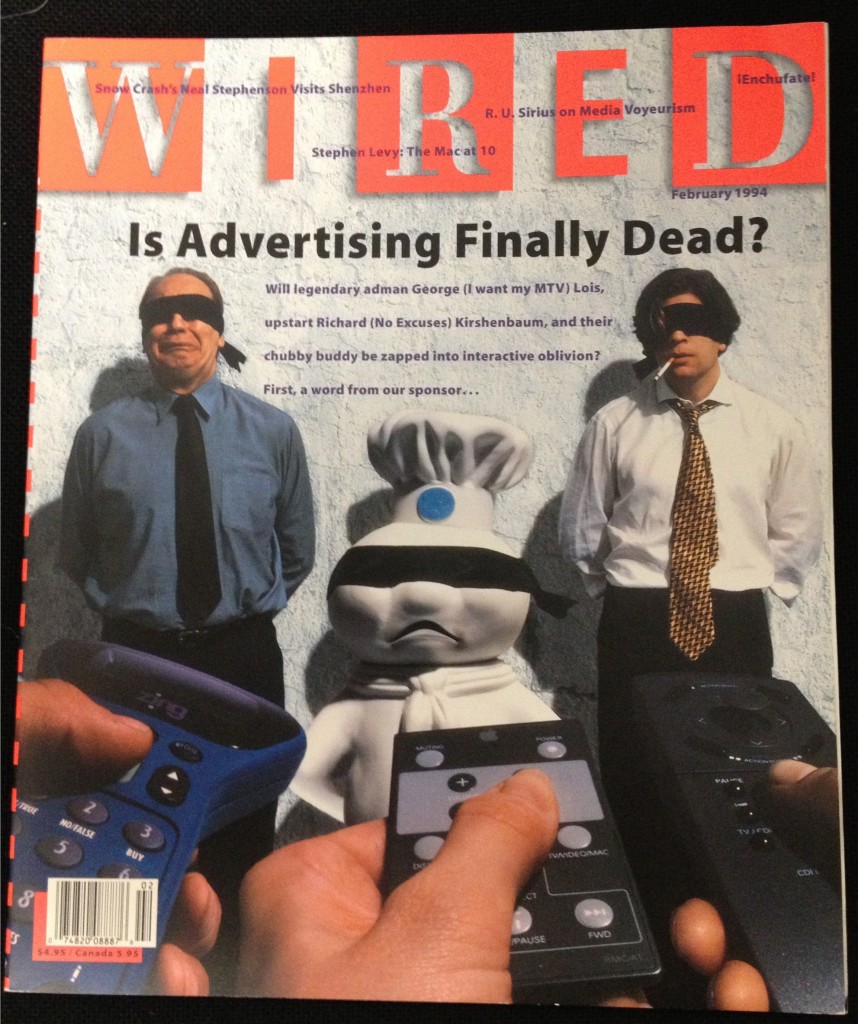 And so it is that today, the quest is complete.
Okay, so I went a little over my per-issue budget on this one because it has been autographed by Neal Stephenson at his article, "In the Kingdom of Mao Bell." But lo and behold, here is issue 2.02, from February 1994, and now my Medill bookshelves are groaning with 239 regular issues (there are only 6 in volume 1, plus 5 so far in volume 21); a handful of supplements (e.g. Wired Scenarios 1.01; Unwired; Geekipedia); some, shall we say, "sponsored content"; and more stripes on the spines than I care to count.
Some random observations:
Wired began publishing the URL www.wired.com on those spines with issue 4.12, December 1996, a fat 312 pages that lent itself to a nice fat typeface. As I often like to say, there were giants in those days, with other dot com-bubble-fueled paginations ranging up into the 432-plus page range.
The URL went away in February 2007, issue 15.02, perhaps by then being just too obvious.
All those colors can really light up a black bookcase. It's a tossup as to what visitors to my office notice first: the Wired collection or my four shelves of Starbucks city mugs from cities I've visited. Steven Levy, not surprisingly, noticed the magazine. (The collections are of similar vintage; I started grabbing the mugs when I was out promoting chicagotribune.com door-to-door in the late 1990's.)
But wait, you might ask. All of the editorial in those magazines is pretty much readily available on the Web; why hang onto all that glossy paper?
Well, there are the ads, of course — thousands of pages and millions' of dollars worth of eye candy. But in truth, it's a use-case issue.
When I want to refer to an article from the past — let's say Gary Wolf's great June 1995 piece on Ted Nelson, whose idea of "transclusion" predated and informed the Web — it is way more satisfying to locate it in the Wired archive, then pull the magazine off the shelf. And who wouldn't want to see Steven Levy or Kevin Kelly or Chris Anderson or Stewart Brand in context? (Example: when you think of how pervasive and influential Anderson's original piece on the long tail has become, wouldn't you be shocked to realize that in issue 12.10 (October 2004), the story rated only the seventh and last cover line — without using the phrase?
I can't predict the long-term future for my newly complete collection. Will some librarian or researcher see value in it, or must it have a far less lofty destiny? For the short-term present, though, I'm happy just to roll my desk chair back and to the right, and to reach up to grab, between any one set of an issue's glossy covers, any four-tenths of 1 percent of the ideas that have driven the culture for the last 20 years.