The Glass Chronicles, I: Land of Stares and Data
Wednesday, June 19 — my grades turned in, and commencement yet to come — I headed to Google's Chelsea Market space in New York City, across the street from the massive New York headquarters building the company bought for $1.9 billion in 2010 (check out Andrew Blum's book "Tubes" to learn an interesting reason the location is important).  I had a 2 p.m. appointment, you see, with a product I had just purchased:
Google Glass.
I don't actually know if the implied drama of that two-word paragraph is justified, but then again I didn't want to bury the lede in this first consideration of a highly anticipated, yet highly controversial, piece of consumer technology.
Mark Skala of Northwestern, who is directing the videos of my lectures for my upcoming Coursera MOOC, had come along, too, looking for some images and some B-roll. And so it was, after refueling at the Starbucks in the main Google building, that we made our way to the world of Glass.
The first question my longtime colleague, digital-advertising visionary Kurt Fliegel, asked when he saw what I was up to on Facebook was straightforward enough:

Meanwhile, over on Google+, my fave Deerfield High School teacher Ben Palmberg was succinct with his version of what folks … particularly the former students who follow me online, and the ones like Ben whom I accidentally pinged from the device at one point … were asking all day:

So, executive summary:
I sense that the more Google knows about me, the more Glass will seem helpful. I don't use Google Calendar, so I was surprised that the first "card" I saw when viewing apps on Glass was a Google Now update on the status my return flight to Chicago — obviously plucked from my Gmail. The more data, the merrier, right?
I sense that there are few easier ways to take and share a photo or a 720p video. "OK Glass, take a picture," or a click on the frame of Glass.  "OK Glass, record a video," or a click-and-hold. The first thing my Glass Guide had me do (after confirming my color choice) was to ascend a modified scaffold and take a photo of the neighborhood, then a video. Sharing it to Google+ with a click appends the handy promotional hashtag, #throughglass.
I sense that there is plenty of room to envision and build news apps and tools that go beyond the couple now available, from the New York Times and CNN. Each relies on a brief audio clip to summarize the top stories that appear before my very eye; see first bullet point on personalization for one way this could get better quickly.
And of course there are no easier ways to call up any sort of Google search results.
To get back to Kurt's question, and my answer: Wherever there are search results, personalization, and data collection, advertising seems destined to follow. Not to mention the creation of new norms for that particular future I mention, and new definitions and redefinitions of the lines between public-ness and private-ness, between creepy and cool.
For those of you who want a little background, here we go. Back in February, Google invited interested geeks, nerds, and real people to compete for the chance to plunk down $1,500 for the early production version of this, a most public foray into "wearable computing," by explaining how they'd use it during a most public beta.
Now, I haven't always been the earliest of adopters — I got an Apple //e in 1983 and not an earlier Apple ][+, for instance (though I did get an iPad on Day One in 2010). This time, I thought for a few seconds and typed an idea on my Google+ page, and a month later, I heard back.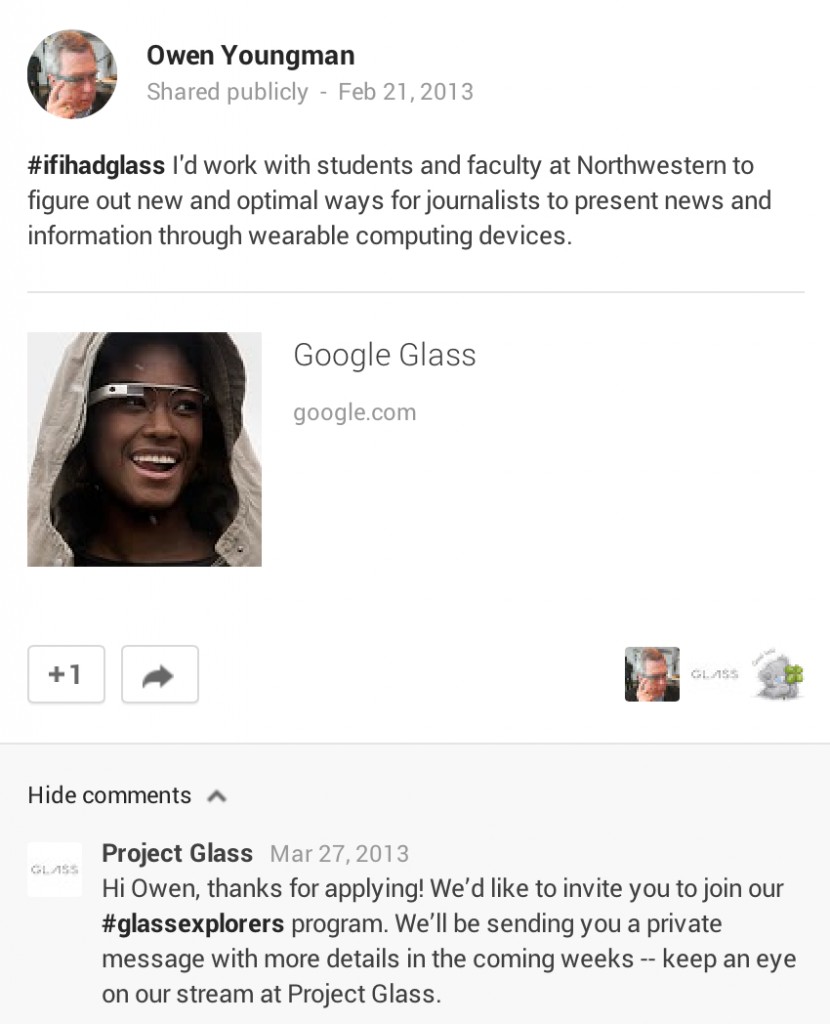 And now we were a couple months farther along, and about 8,000 of us "Glass Explorers" are trucking off to New York and California to get the devices.
The experience itself was, well, Google-y; the space was gorgeous, the Diet Coke was free, and the many employees on hand were cheerful, interested, interesting, and helpful.  (The day provided another data point to support my longtime contention that, in hiring, the company screens for amiability.) Among others, I got to chat with a Google X project manager who had worked on Google PrintAds back when I was representing Tribune Co. on that shuttered project and learned that there were some Medill graduates (whom I don't know) on the Glass project back in California.
Helpful, I said? For example, my "Glass Guide," Laura, said that if necessary she could even accompany us back to the airport "and stay with you till the TSA says I can't." As it was, the open-ended two-hour session on site proved to be plenty to learn how to wear Glass (high enough on my nose to clear my browbone);  the right way to talk to it; how to wake it up if my hands aren't free, by tilting my head backward at a customizable angle between 10 and 40 degrees (cf. Fred Armisen); and how to look more suave merely by attaching some dandy shades.
I do have to remove my own spectacles to wear Glass. The prescription-eyeglasses adaptation is still under development, though I got to take a look at an alpha. So for now, my one personal issue is that switching back and forth from corrected to uncorrected vision is proving to require a break in tasks to allow for my brain to adjust.
The only other remotely difficult thing about Wednesday's whole experience was trying to find a cab driver willing to drive to LaGuardia at 4:15 p.m., actually. Laura did accompany us downstairs, so I could test tethering my device to my iPhone when not connected to Wi-Fi. She then bid us farewell, just in time for me to get a sense of one reason high-profile early Glass-wearer Robert Scobie has labeled the Glass launch "the most brilliant new product rollout I've ever seen." (For balance, he also called it "certainly the most controversial product of my lifetime.")
As I walked down the street so that Mark could shoot a little more B-roll, I was approached by an passer-by who turned out to be the chief innovation officer of a company called Iceology, Stephen Berkov. Could he take a picture of himself with me, wearing Glass? Why, sure. (Quoting Scobie again: "On the street? It's all smiles." So it would appear.) We talked for a while about media and marketing and privacy, and those potential new norms. And he readily shared this photo with me through Facebook.
It's too early for a bottom line, of course, but I've got some ideas about journalism applications. They have to wait briefly; for now, it's back to writing lectures for that MOOC . . . and as it happens, the next one needs to be Google and mobile. Funny how that works. And after that? There's a privacy lecture that will seem well worth the effort.