On Jan. 19, 1995, I called to order the first meeting of a 10-person Chicago Tribune committee charged by our bosses with figuring out the Internet.
By March 29 … yes, just twenty years ago … we were done.
(Must have been the head start: Since 1992, the company had been running Chicago Online, a service on America Online that was about to become profitable … thanks to the number of hours its users were spending not so much reading the news, but chatting with each other.)
Of course, our merry little cross-functional band knew full well we weren't done. But we were done enough to pitch a vision and a business plan, and to argue for the organizational bandwidth needed to hire about 18 new staffers. And then to turn them loose.
We also knew that even if we persuaded the bosses to go for our ideas, we could still screw it up. "An uncompetitive or uncompelling product invites ridicule, or worse, complete uninterest," I wrote. "Reputations are made and lost on the Internet as quickly as technology changes; what once was 'innovative reuse of content' is now 'shovelware.' A substandard or merely mediocre product not only puts at risk our reputation for technological innovation; it also provides an opening for competitors."
But enough quoting from source material, whether the prose be deathless or deadly. Here's just the executive summary of that lengthy document … now-outdated or merely quaint verbiage unchanged … just as it looked when it officially saw the light of day in the Medill Room on the second floor of Tribune Tower. (Actually, it was a dimly lit room; can I blame that for the fact that I didn't see just how fast it was all going to happen?) Click the image immediately below to navigate to a more readable PDF version that also includes the final two paragraphs that noted we'd need not only to hire new folks, but also to actually retain them.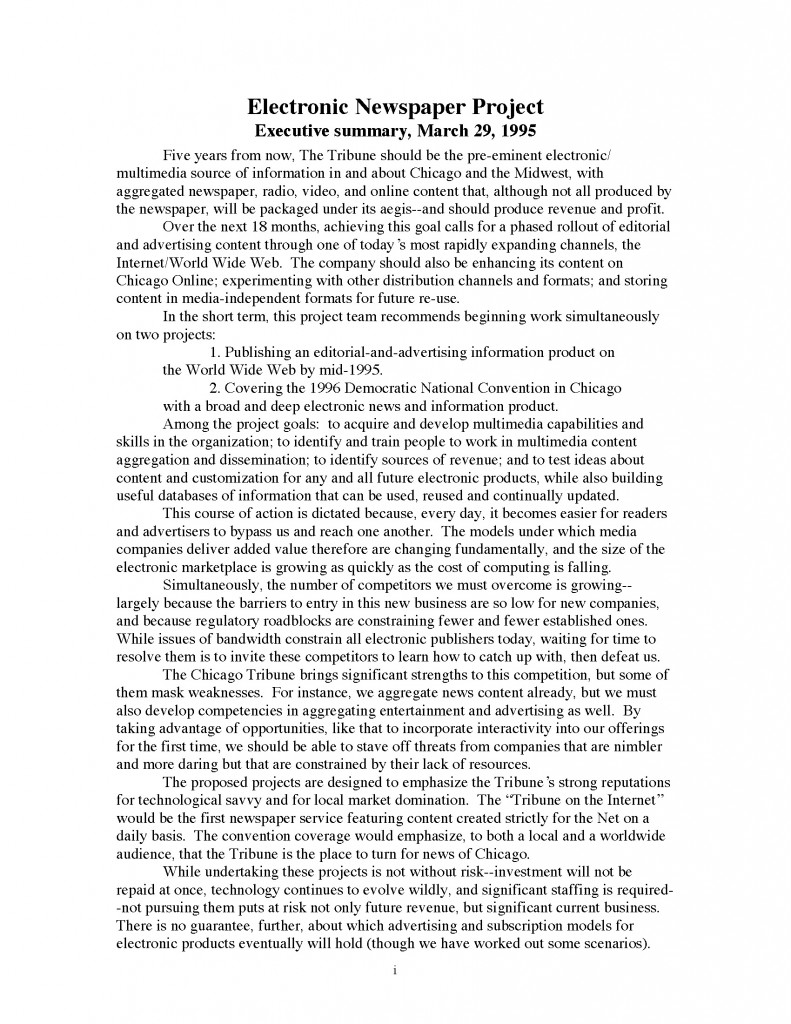 Only one member of that committee, the intrepid Eric Zorn, remains at the Tribune. Props here to the rest, alphabetically: Barbara Boyer, Carolyn Crafts, Larry Druth, Kurt Fliegel, Judith Hoffman, Ann Marie Lipinski, the late Jim Szott, and Dave Wortsman. Whatever we didn't get done in the years that immediately followed was my fault, not theirs.