Today's Wall Street Journal brings a "Journal Report" on "six crucial issues" in technology . . . though your mileage will vary on just how "crucial" they might be: After all, they range from "Should Broadband Internet Access Be Regulated as a Public Utility?" to "Is Now the Time to Buy a 4K Television?"
Somewhere along that continuum we find, as the print edition would have it, "What Role Will Large Online Courses Play in the Future of Higher Education?" The Journal saves the usual acronym for the subhead: "Three experts debate whether MOOCs will create two separate but unequal college experiences," perhaps because "large" is actually a way better adjective than "massive."
Large or massive, MOOCs continue to generate a lot of data, a fair amount of media attention (or maybe not), and more than a few chances for professors to try to interpret their data. To that end, what was I up to after the MOOC, while not posting to this blog? Well, let's see.
JANUARY
Kept wondering if the undergraduates in "American Media through the Lens of Google," might have preferred to take the Coursera version instead of walking over to Fisk Hall at 9 a.m. Why, you ask?
Well, here are the morning low temperatures in Evanston on seven of the first ten class days: minus 1, zero, minus 5, minus 12, plus 9, plus 2, minus 5. (And this omits the first scheduled session, when the morning low of minus 13 meant the university canceled all classes–that, plus the 12 inches of snow that had fallen on the weekend.)
FEBRUARY
Delivered a plenary address at the 2014 "Conversation on the Liberal Arts" at the Gaede Institute at Westmont College, the overall topic of which was "Technology and Relationship in Liberal Arts Education." (n.b. It was not 5 below in Santa Barbara. Nor was it snowing.)
MARCH
Cheerfully graded four-and-a-half dozen final papers for my graduate and undergraduate courses. Visited 3-month-old great-nephew Jack during spring break. Finished going to the Lyric Opera for the season; transitioned into weekly trips to Symphony Center. Noted the 18th birthday of chicagotribune.com. Gave few interviews and fewer speeches (none).
APRIL
Popped down to Houston to give a talk to Northwestern alumni that actually wasn't about the MOOC, but hinted at some of the content: "Where Have All the Mad Men Gone? Gone to Google, Every One." (The alumni recognized the musical allusion more readily than a student might. Or was it an obituary allusion?)
MAY
Delivered the keynote address at the May Racom IMC Roundtable sponsored by the Chicago Association of Direct Marketing Educational Foundation. Worked toward teaching the second session of the MOOC and began promoting it with a little help from my authors: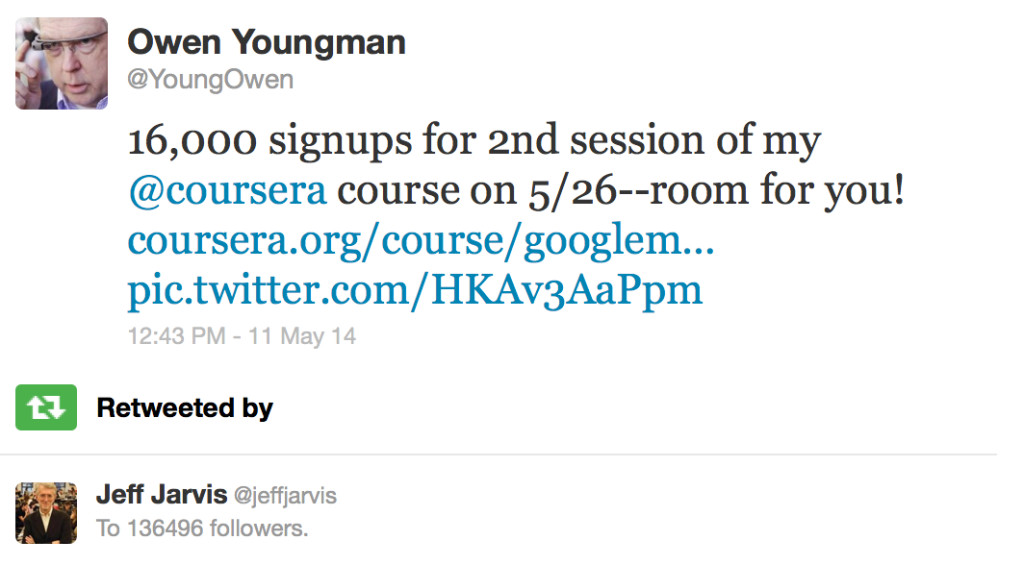 How about that: as Albert Brooks might have it, I buried the lede. Time for you to sign up for the second session of "Understanding Media by Understanding Google" on Coursera.
You do feel bad you missed the first one, right? We've got new readings! See you May 26.