The students in "Understanding Media by Understanding Google" are nearing the end of their six-week sojourn in the land of Medill's first massively open online course. Our closing topics are Google's forays into social media, and then a second bite out of the privacy apple: a lecture entitled "The Private, the Public, the Politic(s)." Central content comes from Jeff Jarvis, Siva Vaidhyanathan, and Eli Pariser, supplemented with on-camera interviews on the latter topic with Jarvis and Vaidhyanathan.
The students' final written homework assignment? "Take a position on whether our decreasing anonymity online, and the increases in data collection and information sharing that accompany this decrease, either improves or damages 21st-century life." With citations, of course. I wonder if anyone will cite the new Dave Eggers novel…
Even though the video lectures were taped over the summer, the activity in the course's discussion forums is keeping us up to date. Thanks to well over 20,000 posts and comments in more than 2,500 threads, little that has been in the news about the intersection of Google and the media has escaped notice since the course launched on Sept. 16.
I've been working to pay attention, and have been called on to start sharing what I notice. Last Thursday, for example, The Guardian published some of my observations; the 60 comments beneath the piece help to highlight how strongly people already feel about MOOCs, whether or not they have tried one. I also made a couple of presentations on campus — one at a faculty forum on teaching, learning and assessment, the other at a homecoming-weekend gathering of interested alumni. And I have been studying the results of a mid-course survey that I served up to students after three weeks had gone by.
One of the most common complaints about / criticisms about these courses was summarized by one of the Guardian commenters thus: "I can imagine nothing more demotivating than never being in the same room with fellow students." Coursera, the platform provider, emphasizes its discussion forums to partly address this issue, so my survey asked the students to rate their level of agreement or disagreement with a number of statements about them. More than 1,200 who are using the forums responded: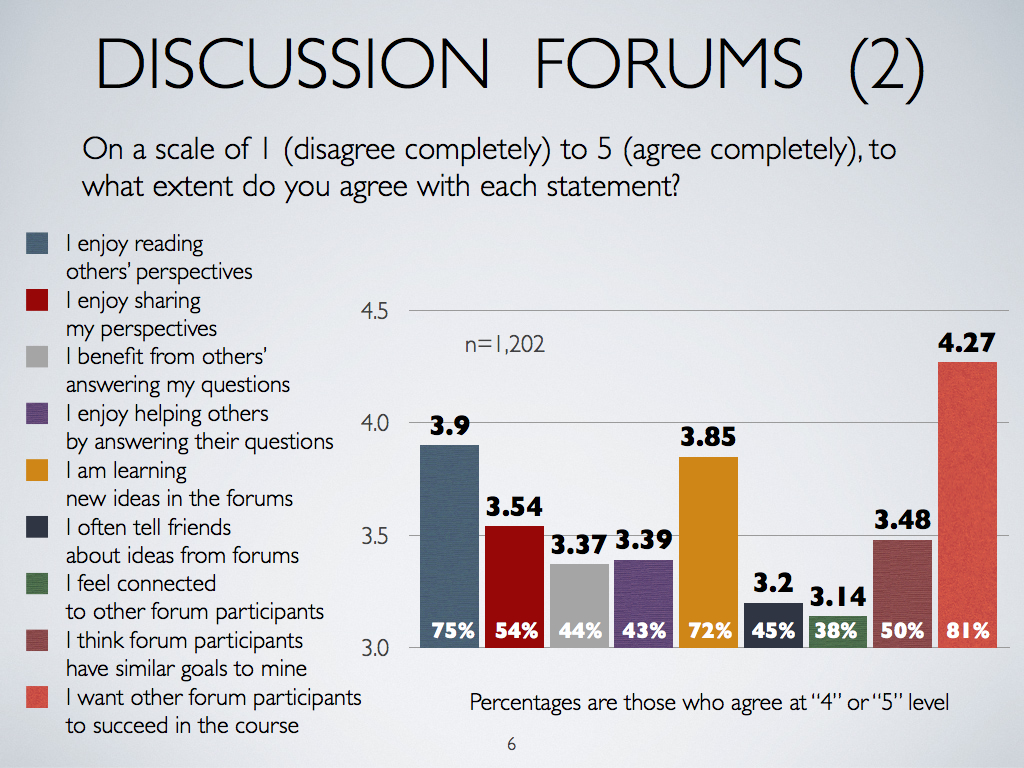 One of my Medill colleagues who looked at this data remarked that "Those are high mean scores (and the percentages of 4 or 5s back that up). Especially the high scores on reading others' perspectives, learning from others, and wanting others to succeed. People in your class are not on a digital island by themselves." Certainly, your mileage may vary, but I feel encouraged by those same tallish columns.
Of course, in-person interaction still counts for a lot, so we've tried a couple of things along the way.
On Oct. 4, I held a sort of online office hours on the topic of advertising, with half a dozen students from around the world asking questions of a Googler who works on AdWords. You can check out the 35-minute video here if you're interested.
Last Thursday, the same day my Guardian piece ran, I hosted an on-campus meetup for any Chicago-area students who might like to make the trip to Northwestern, with everyone else able to watch and ask questions through Google+. The same team that created my lecture videos has posted some pre-event interviews and the event itself on YouTube, where the highlights include Owen tying his shoe at the 24-minute mark and Jeff Jarvis joining us for Q&A starting at around 31:00.
A few hours after Daylight Saving Time comes to an end in Evanston, the students will be done with their final task, which is grading each other's work on that final homework assignment above. They'll soon get their grades, and they'll undoubtedly give me mine.
And then? I'll get down to the business of seeing how much of what I've learned might be deployed in my winter courses in meatspace when graduate and undergraduate students return to school in January. I'll miss my far-flung correspondents, but I'll also be ready for some close encounters of the Evanston-classroom kind.