Jack Fuller, Ann Marie Lipinski, Scott Smith, Howard Tyner, Alison Scholly
"Tell brave deeds of war."
Then they recounted tales, –
"There were stern stands
And bitter runs for glory."
Ah, I think there were braver deeds.
– Stephen Crane
---
And in fact, when three former editors and two former publishers of the Chicago Tribune gathered with two former general managers of the Tribune's interactive business for lunch Friday at the Arts Club of Chicago, it was the braver deeds that dominated the conversation.

And, of course, the Connecticut warbler that spent most of the lunch in a tree just outside the club's second-story dining room.

Unlike the newspaper industry meeting on Thursday in Rosemont, there were no outside lawyers present, though had we needed one former editor and publisher Jack Fuller certainly qualifies. But maybe there should have been, since when we discussed health care we could call upon our board and professional connections to Northwestern Memorial Hospital (Scott Smith), the University of Chicago Hospitals (Jack Fuller and Ann Marie Lipinski), and Swedish Covenant Hospital (Owen).

When we got to philanthropy, we had trustees of the Macarthur Foundation (Jack) and the McCormick Foundation (Scott). (We had been hoping for incoming McCormick CEO David Hiller, but my lunch with him isn't till next week.)

On higher education, we had North Park University trustee Owen, University of Chicago VP for Civic Engagement Ann Marie, and U of C trustee Jack, not to mention plenty of informed opinion from Scott, who is of course deeply involved at Northwestern as well as a trustee at National-Louis. Less problematically from an antitrust perspective when the talked turned to journalism education, Medill was of course heavily represented, by alumni Howard Tyner, Alison Scholly, and Jack, plus professor Owen.

Also unlike that Thursday meeting, which former colleague Jim Warren broke online in The Atlantic, there was no top-secret agenda either to publish or to suppress. The occasion was to mark my retirement from the Tribune. Yes, that came last November, but just think of all the board meetings we've been going to.

In the intervening months, of course, I also wound up with this great job at Medill, and the gathered alumni were very interested and very encouraging. I ran a few of my incipient pedagogical ideas and philosophical constructs past the table, and you know what, I think I'll keep working on them!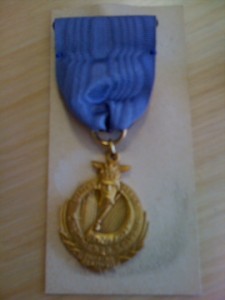 Really, the only virtual trip down St. Clair Street came when my friends showered me with gifts and remembrances. Here, for example, you see my very own Chicago Tribune Chicagoland Music Festival first-place medal, struck by C.D. Peacock. (The Festival, held every year from 1930 to 1966, was just one of the many events – the Golden Gloves, the Silver Skates, the College All-Star Football Game – that the Tribune gave to Chicago over the years. Jack fondly recalled the glow that suffused Soldier Field when, at the end of each Festival, the lights were turned down and everyone in attendance struck a match and held it aloft.)
Did we worry aloud about the current state of the world? Sure. Did we talk about how the Internet had changed everything? No, because we'd all been directly involved.
Did we wonder if things would get better in media land? No, we just discussed what would happen when it did.
Then they sent me back to Medill to get back to work on the next miracle. And so here I am.